THERE'S GOT TO BE A BETTER WAY
Tough. Functional. Comfortable. Since 1989, we've been on the job – building innovative gear for can-do guys and highly capable women. With our Midwest catalog and online roots, and a national network of over 50 stores, the Duluth Trading experience is a colorful one.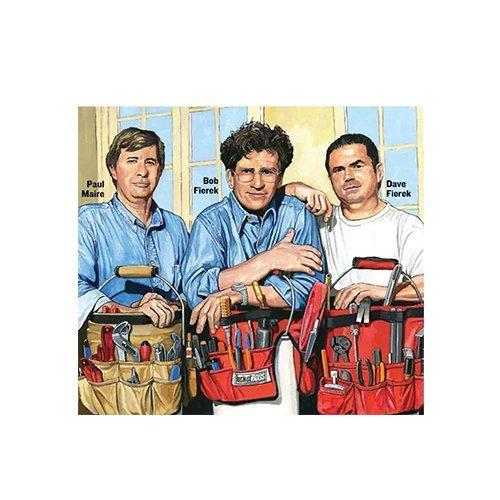 Before there was ever an Angry Beaver, there was a Bucket Boss®. This invention was literally a new category of tool organizers, created by three enterprising tradesmen in Duluth who incorporated in 1989. The first catalog under the Duluth Trading name was mailed in 1993, focusing on tool bags and organizers. Later, the company changed hands and moved to a new home in Belleville, Wisconsin.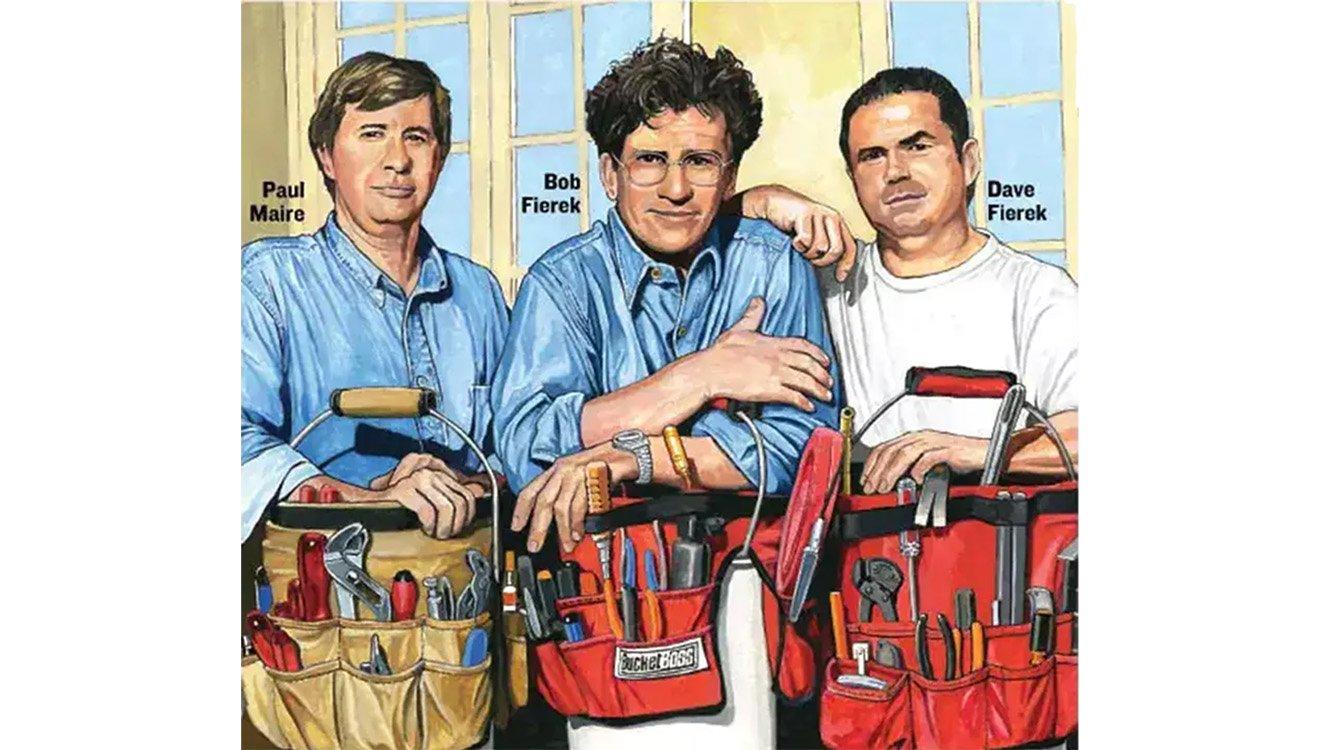 1987 – Bucket Boss® (a trademark of Pull'r Holding Company)

1992 – First Portable Products Catalog

1993 – Headquarters on a barge in Duluth

1993 – First Duluth Trading Company Catalog

2000 – Under new management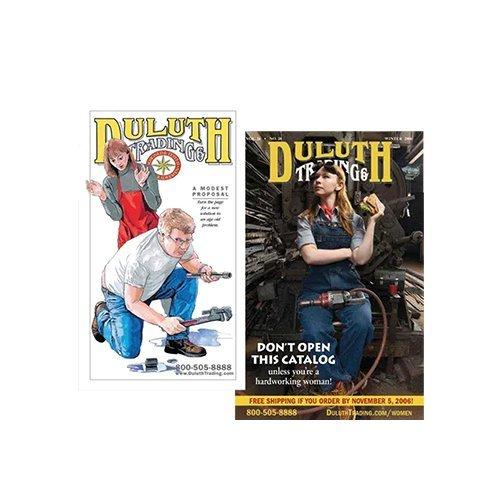 In 2002, Duluth Trading created a successful line of shirts called Longtail T® Shirts, which were 3" longer and marketed as the Solution to Plumber's Butt. The focus shifted to innovative, problem-solving workwear, as well as humorous, cheeky advertising that leveraged the company's illustrated catalogs. Three years later, in 2005, the first women's catalog was released by popular request.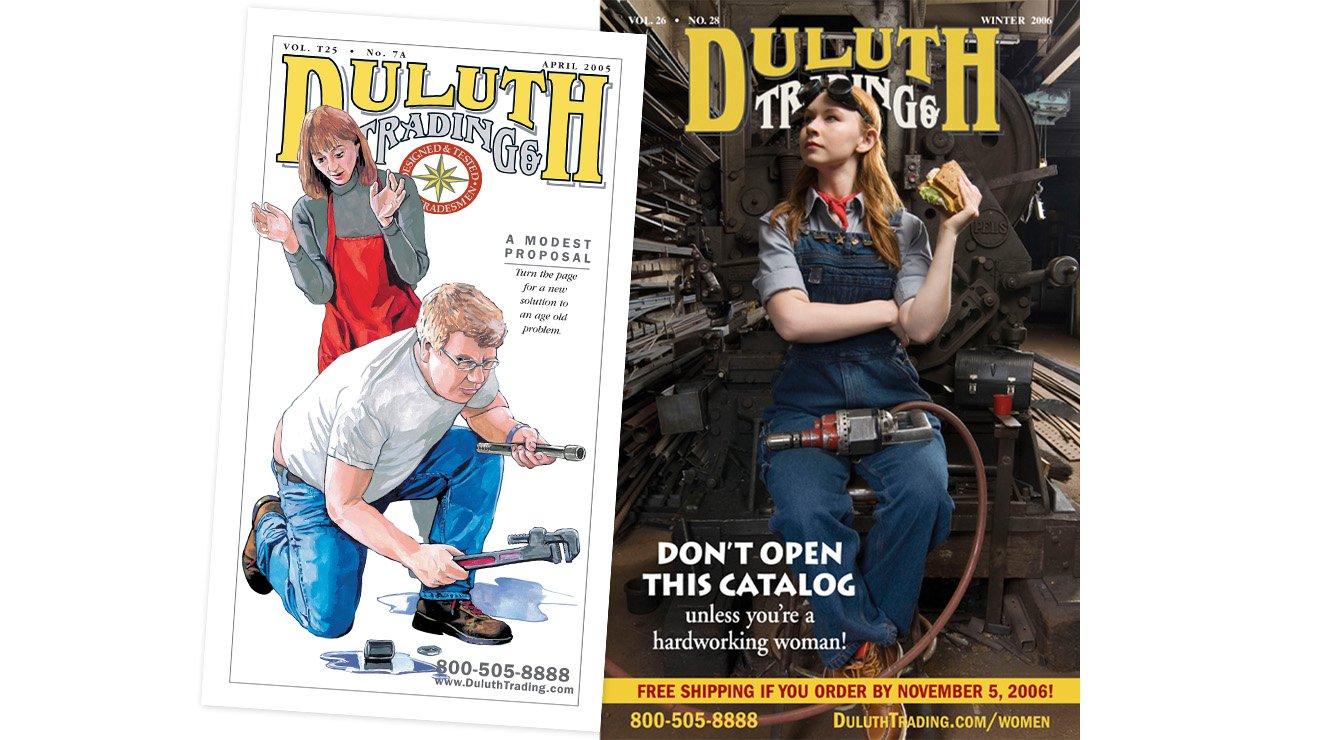 2001 – Duluth Trading Company purchased by Gempler's

2002 – Longtail T® Shirt debuts

2003 – Fire Hose® Workwear debuts

2003 – Gempler's is sold and Duluth Holdings Inc. is born

2005 – First Duluth Women's Catalog

2008 – Readjusting in a time of recession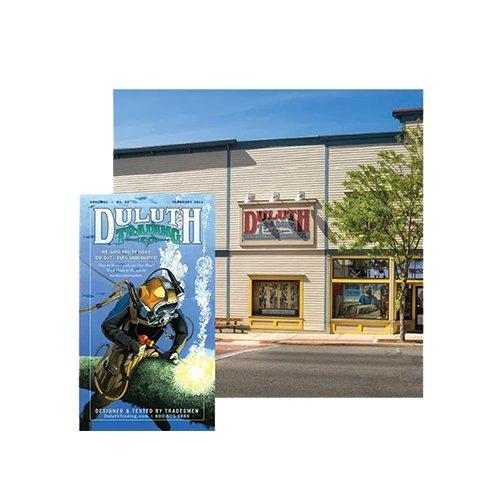 In 2010, the first Duluth Trading retail store opened in Mount Horeb, Wisconsin, where Duluth Holdings is now headquartered. In 2011, the company's first TV ad was regionally tested. This animated spot developed by ad agency Planet Propaganda featured the company's unofficial mascot discovering, to his dismay, that Fire Hose® Work Pants are "Tougher Than an Angry Beaver's Teeth."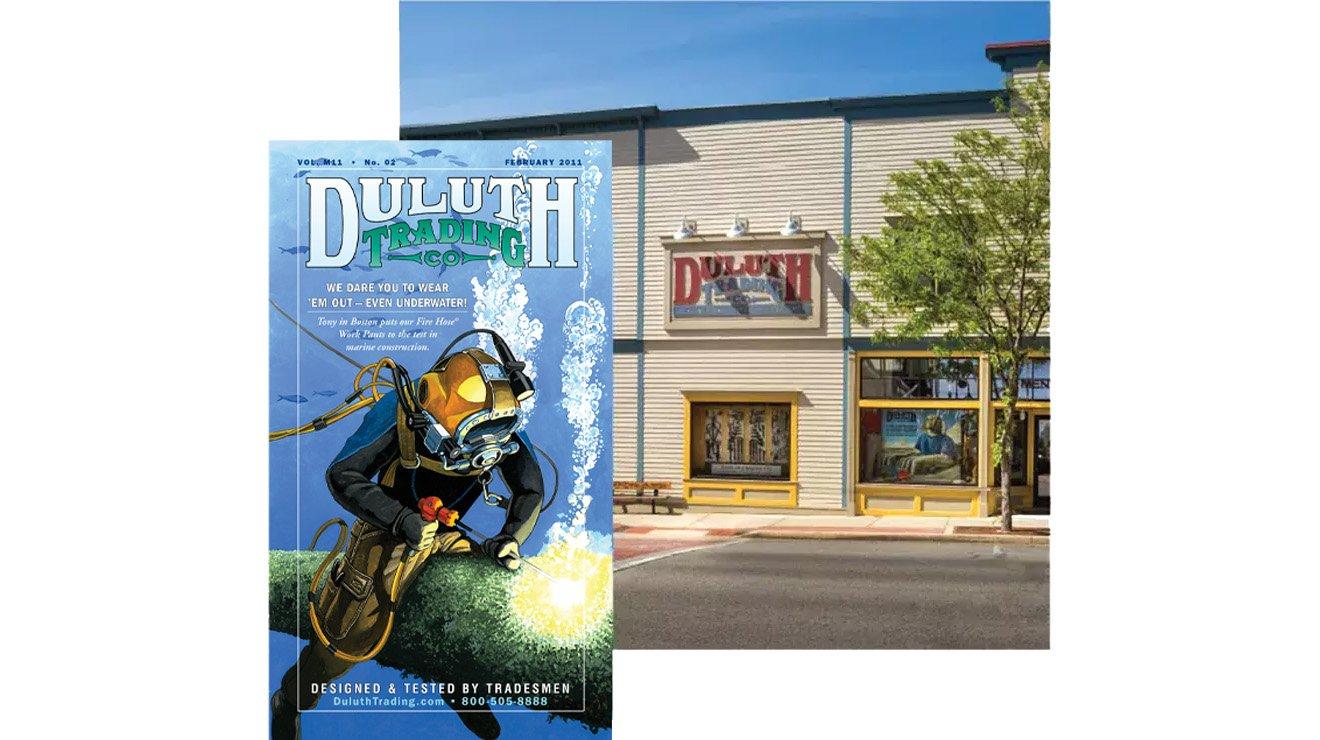 2009 – First Duluth Woman model

2009 – Men's denim pants dubbed Ballroom® Jeans

2010 – Buck Naked™ Underwear debuts

2010 – First Men's TV ad with the Angry Beaver

2010 – First retail store opens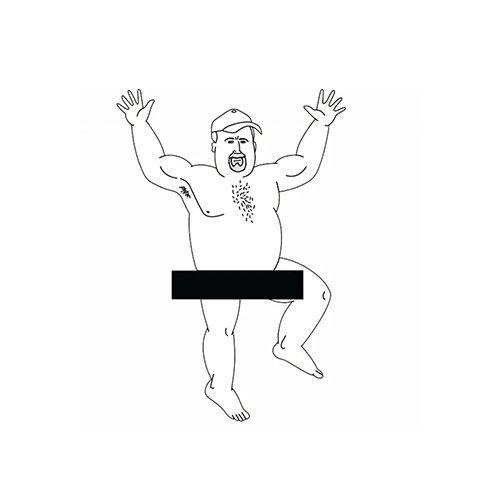 The "Store Like No Other" retail concept was expanded to 6 locations. Customers across the Midwest came to see, touch and try on Duluth goods in person. At the same time, more and more quirky animated creatures graced the airwaves and helped drive sales. The Women's business found its footing, the Alaskan Hardgear® brand was acquired, and Duluth Holdings, Inc. made its initial public offering.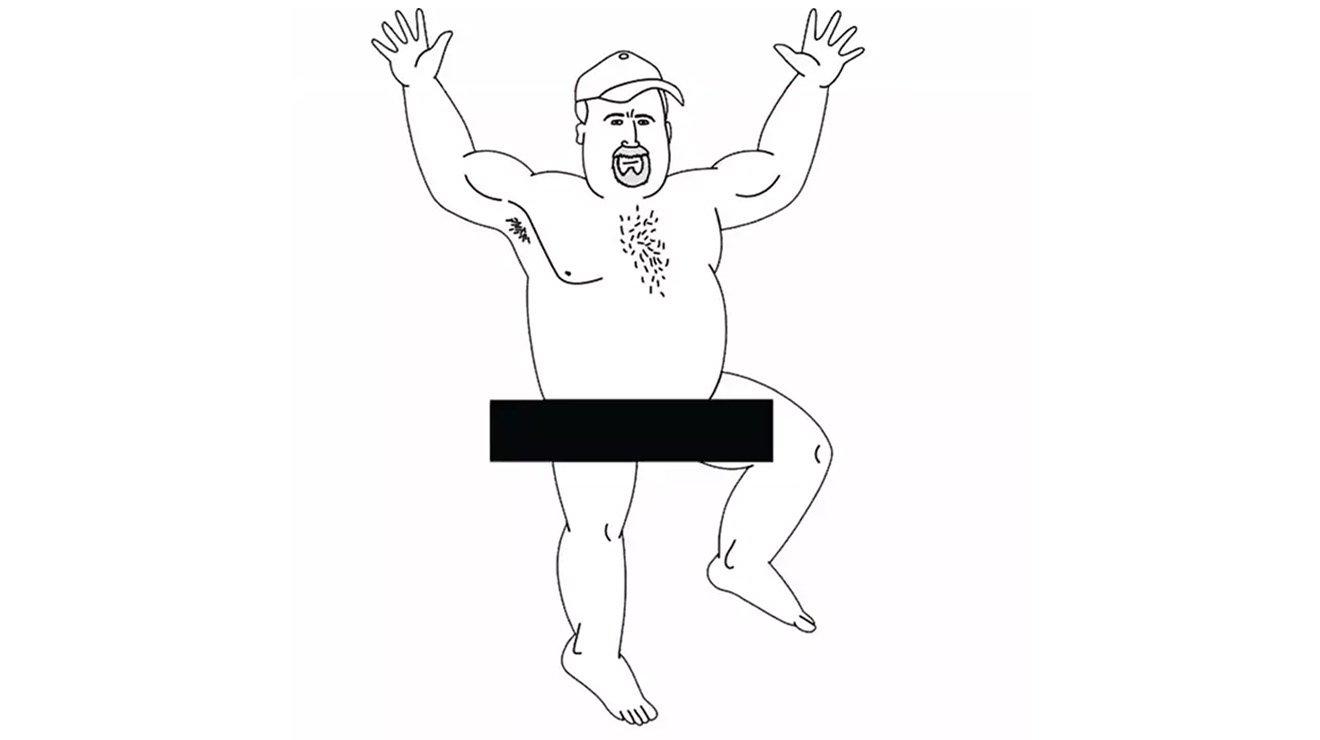 2011 – First Duluth Women model contest

2012 – DuluthFlex® clothing debuts

2014 – Women's No-Yank® Tank debuts

2014 – STIHL TIMBERSPORTS® partnership

2014 – Alaskan Hardgear® brand is acquired

2015 – Six more retail stores open

2015 – Duluth Trading Co. goes public
2016 – Socks Education campaign debuts

2017 – Men's Bullpen® Underwear

2017 – Official USA Luge Off-Sled Outfitter

2017 – First Alaskan Hardgear® catalog

2018 – Buy Online, Pick Up In Store

2018 – Women's Plus Sizes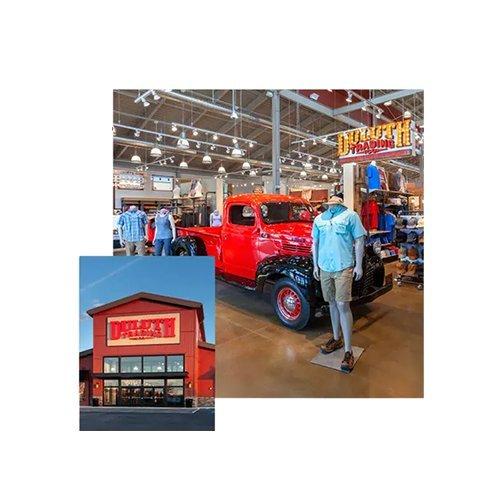 Duluth Trading continues as an omnichannel lifestyle brand serving hardworking men and women wherever they wish to shop. Continued growth and investment are seen in specialty brands Alaskan Hardgear and Best Made. Well-positioned as a direct-to-consumer business as well as a retailer, Duluth Trading survives and thrives during ongoing business disruptions.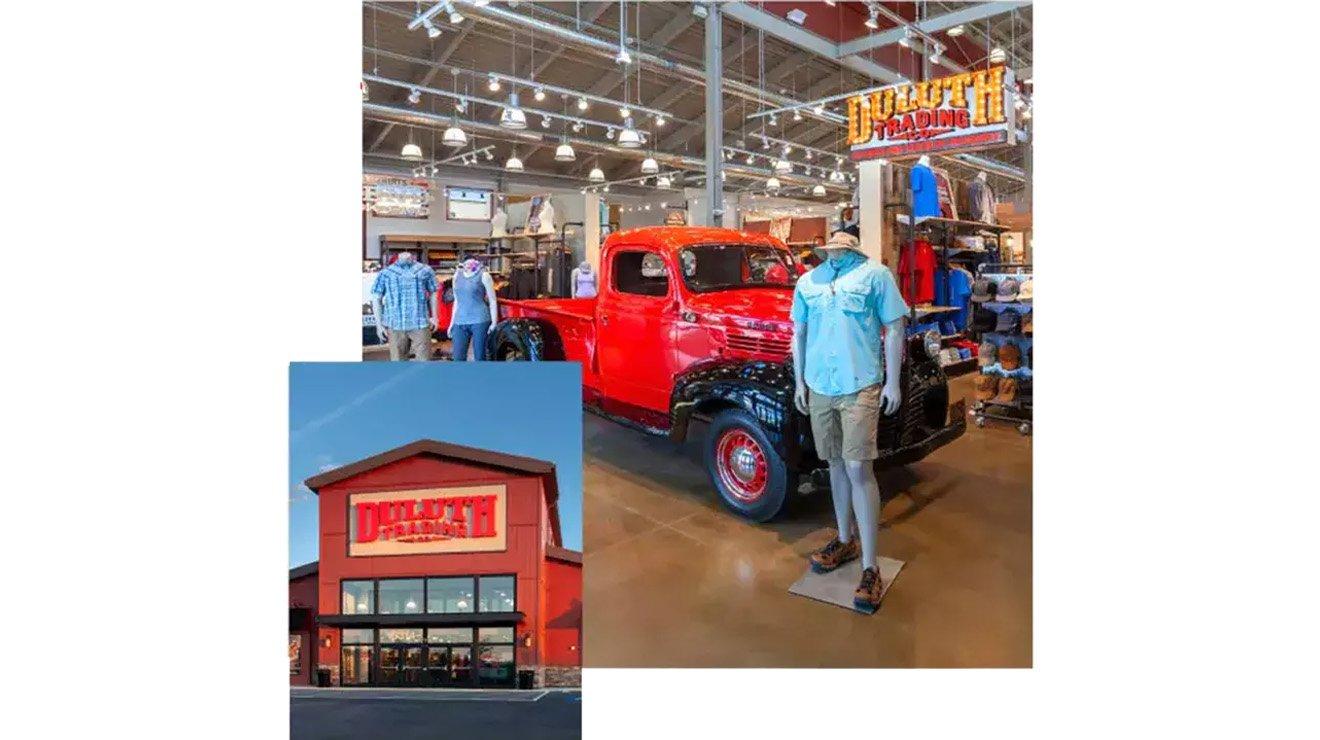 2019 – 50th store opens in Spokane Valley, WA

2019 – Women's Rebrand-Wayforgers Launch

2020 – Best Made Co. brand acquired

2021 – 65th store opens in Florence,KY

2021 – Corporate ESG and Greater Purpose narrative announced

2021 – Launch of Best Made Apparel by Duluth Trading Co.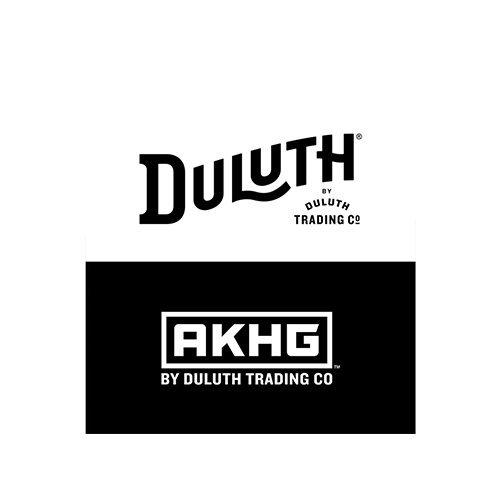 Duluth Trading relaunches the Men's and Women's brands as a single brand called Duluth. The Duluth brand focuses more tightly on work-related apparel and gear. Alaskan Hardgear gets a rebrand as AKHG, and now specializes in outdoor recreation apparel and goods for men and women. The company shifts toward a fully digital customer shopping experience.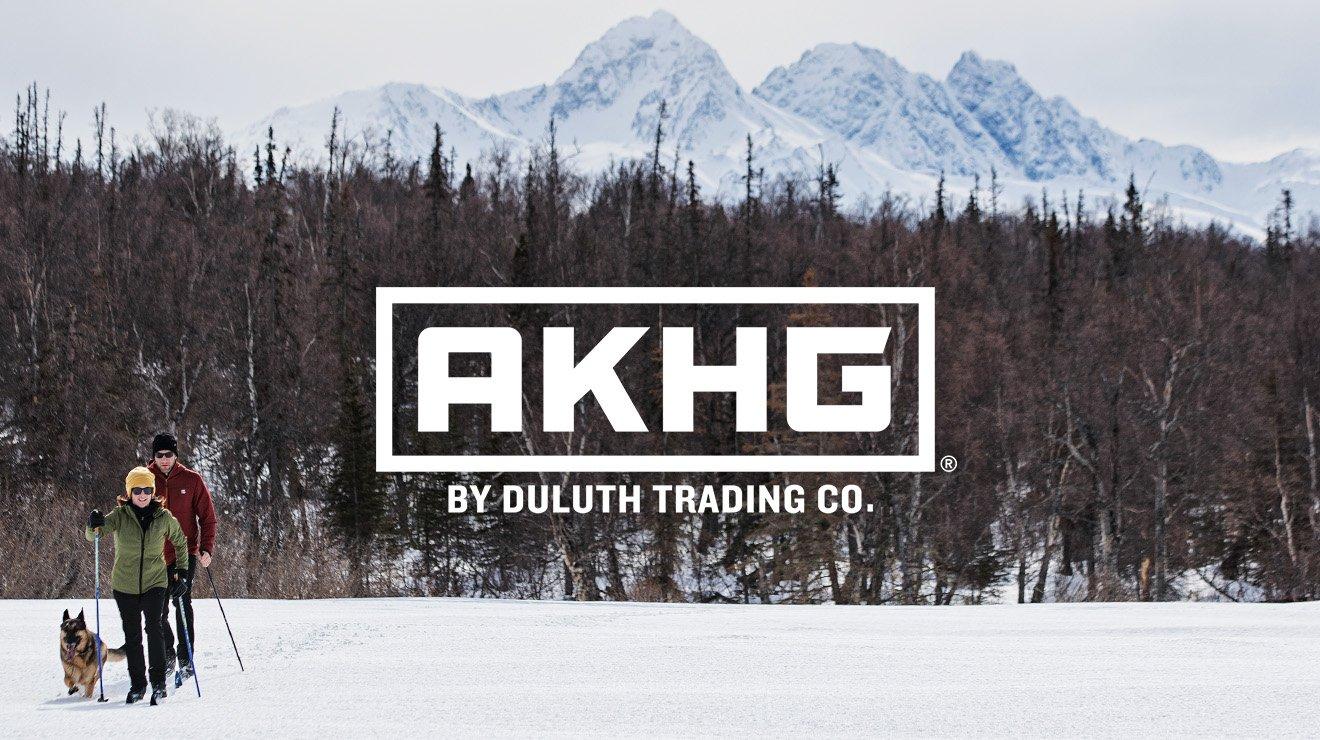 2022 – Duluth Brand launched for men and women

2022 – Alaskan Hardgear relaunched as AKHG for men and women